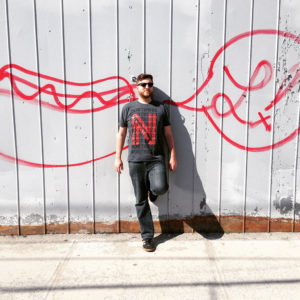 Lawrence Voigtsberger is an accomplished creative and professional designer with more than 16 years of experience within the industry.
PRESENT WORK
For nearly 12 years, Lawrence has provided print and digital creative direction for Verso Advertising in New York, NY. Verso is the industry leader in book advertising with several distinguished book publishing accounts. Verso's goal is to deliver each client's message by targeting specific entertainment audiences with all methods of visual communication: print, digital, outdoor and video.
Lawrence's projects are diverse within scale, medium, and audience. Large-scale ad campaigns targeted to a broad consumer audience include full-page national print ads, rich media online banners, website takeovers, outdoor billboards in major metropolitan areas, street posters, and television screens in Times Square. Smaller campaigns include online banners, b2b print ads and newsletter e-blasts that target specific audiences within niche media outlets.
One of Lawrence's major responsibilities is to manage all digital output and creative direction for online campaigns. Understanding how important it is to stay on top of the ever-evolving digital space, he is communicates with vendor production teams to maintain ad specifications and ensure optimal campaign performance for clients.
Lawrence's work for Verso has been featured in Times Square as print and digital billboards as well as New York City and Boston subway/bus transit posters. Full-page newspaper and magazine ads are prominently displayed in The New York Times, People magazine, Entertainment Weekly, The New Yorker, and The Wall Street Journal. Digital ads appear in top-tier online publications such as NYTimes.com, NewYorker.com, NPR.org, WSJ.com, EW.com, and Hulu — as well as retargeting and prospecting platforms such as Turn, AdRoll, Division D, and Live Intent.
Accounts: HarperCollins Publishers, Houghton Mifflin Harcourt, Penguin Young Readers, Macmillan Children's Publishing Group, Berkley Publishing Group, Henry Holt & Co., W. W. Norton & Co., Farrar, Straus and Giroux, and others.
EDUCATION AND WORK EXPERIENCE
Lawrence's design experience began with his education at Rochester Institute of Technology in Rochester, NY. He earned a Bachelor of Fine Arts in Graphic Design with a minor in Art History in 2001. Lawrence also has a passion for photography and often incorporates this medium into his work as a designer.
From early 2000 to mid-2001, he worked part-time as a Graphic Artist at the Rochester Democrat and Chronicle daily newspaper while attending RIT. Here in the newsroom, Lawrence experienced collaborating with editors, reporters, and photographers.
---
Lawrence was awarded a Visual Journalism Fellowship for Graduate Students at the Poynter Institute for Media Studies in St. Petersburg, FL in 2001. The month and a half program paired writers, designers, and photographers together to participate in a collaborative work environment. Fellows integrated design and photography with stories to create unique editorial content that had a cohesive design in both a print and online medium.
---
In 2002, Lawrence joined LMW Design in Rutland, VT as the lead Graphic Designer. Working directly with the company principal, he designed projects for a diverse array of industries including healthcare, utilities, arts/culture, education and retail. The scope of work ranged from annual reports, identity design, marketing brochures, print collateral, outdoor signage, website development, and much more. Working with Central Vermont Public Service, LMW Design received several awards for annual report design through the League of American Communications Professionals in 2001, 2003, 2004, and 2007.
Accounts: Central Vermont Public Service, Rutland Regional Medical Center, Houghton Mifflin College Marketing, Crossroads Arts Council, and others.
---
Lawrence relocated to New York City in 2004 and began freelancing full-time. He held a contract position as a Web Designer at Thirteen/WNET for several months, followed by a contract design position at BMG Direct. In winter of 2005, his growing portfolio and experience caught the attention of Verso Advertising (formerly Bennett Book Advertising) where he began as a freelance Art Director and was eventually promoted to his present position as Creative Director, Digital.
---
In his free time, Lawrence continues to provide freelance design for several personal clients in the New York and New England regions. Projects range from website development, identity design, outdoor signage, and other various types of print collateral.
Accounts: Gracious Home New York, Suffolk Institute for Psychotherapy and Psychoanalysis, Vincenti & Vincenti, P.C., Stuart Wright Builder, Prima Tutoring, Allison Dinner Photography, Wayne Cook Photography, and others.