Turtles All the Way Down
by John Green
DIGITAL: NewYorkTimes.com, NewYorker.com, VanityFair.com, Vulture.com, TheCut.com
PRINT: People, Entertainment Weekly, The New York Times, The New Yorker, Vanity Fair
OUT-OF-HOME: New York City MTA subway posters
SOCIAL: Instagram
CLIENT: Penguin Random House
To promote John Green's follow-up novel to his phenomenal bestseller The Fault in Our Stars, his legions of followers would need to know if it would meet their expectations.
To highlight Turtles All the Way Down as a must-read, I created and art directed full-page ads for high-circulation magazines by incorporating the rave book reviews in the layout. Digital display ads followed on the NewYorkTimes.com homepage and books section, as well as mobile and tablet executions on other sites. Social media posts were shared pre-publication, and on the release date.
The campaigns were a success and Turtles became an instant #1 New York Times bestseller, spending 62 weeks on the Young Adult Hardcover bestseller list.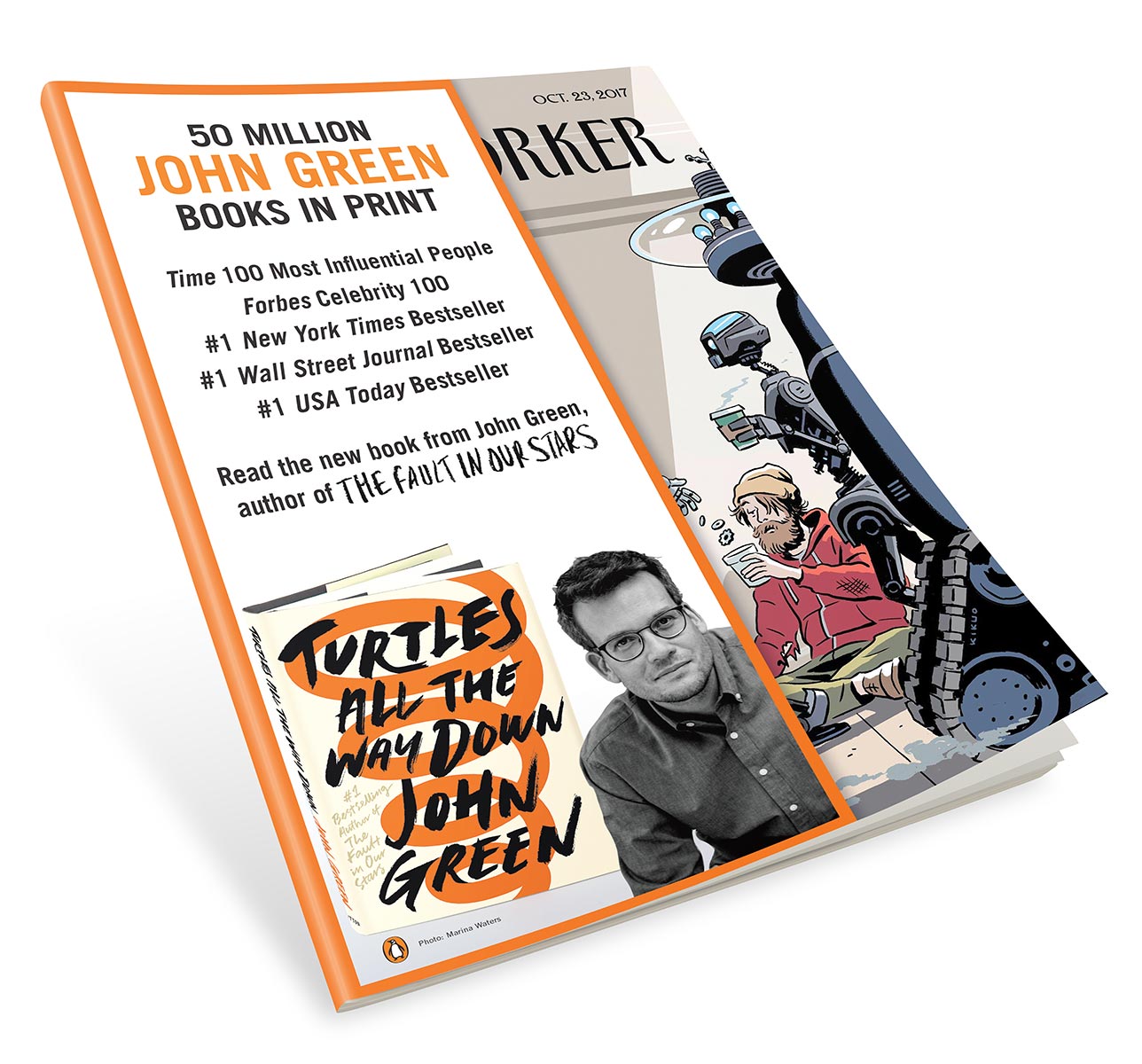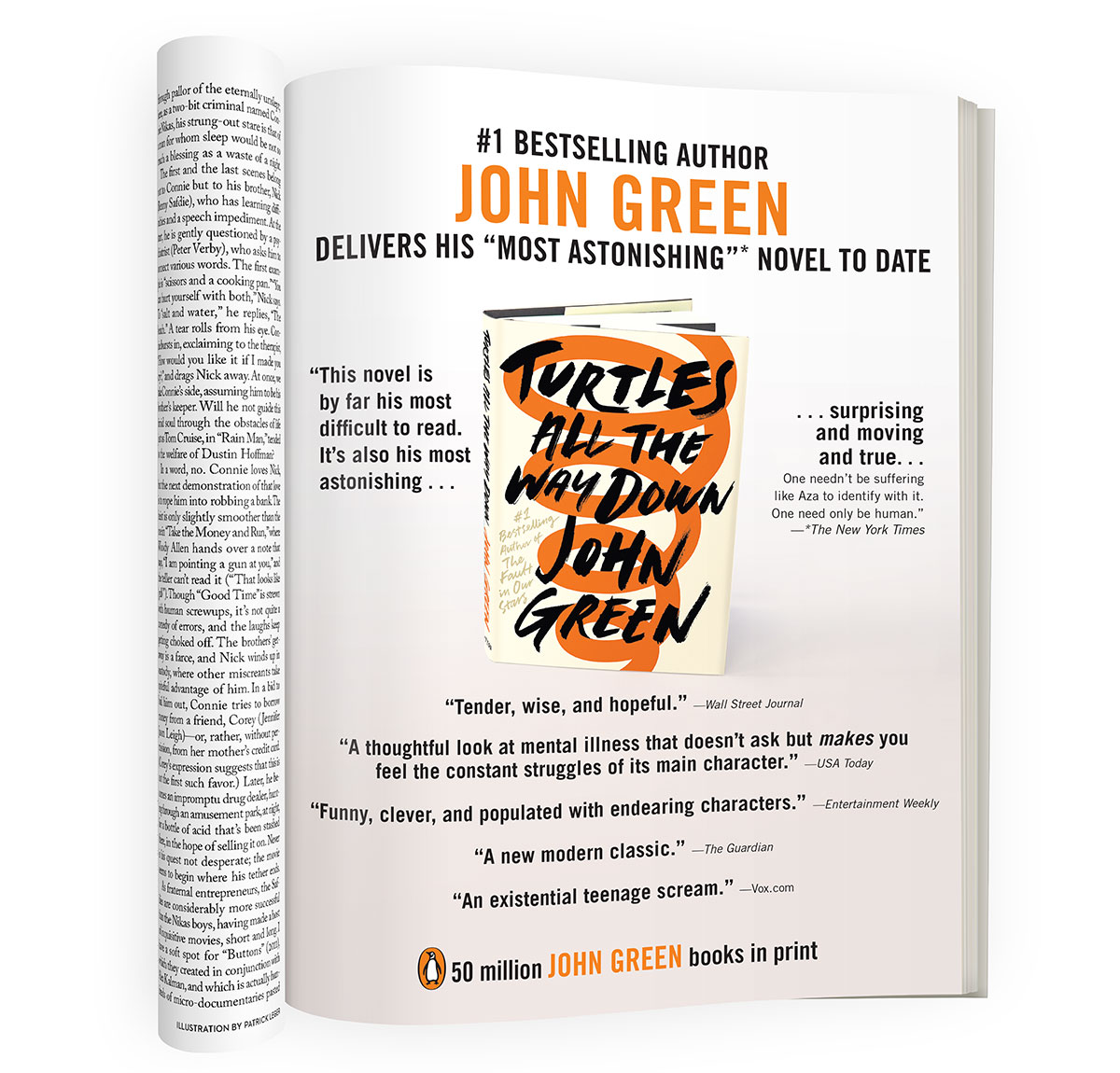 DIGITAL: NewYorkTimes.com, Deadline.com, Division-D
PRINT: New York Times, The Hollywood Reporter
OUT-OF-HOME: New York City MTA subway station domination posters
SOCIAL: Twitter
CLIENT: HarperCollins Publishers
Bestselling author Don Winslow needed an unforgettable solution to promote his latest novel The Force. I was responsible for the creative direction of large-scale out-of-home, digital, and print campaign elements that included a subway station domination of over fifty posters at the West 4th Street station.
Early book reviews from fellow authors provided a great design direction by integrating their praise into the large-format posters. The digital campaign took over the NewYorkTimes.com and Deadline.com homepages. Full-page print ads were prominently featured in the New York Times and The Hollywood Reporter. I also created graphics for Twitter, and we had assistance from Stephen King who re-tweeted a photo of the subway posters to his 5 million followers.
The Force became an instant New York Times bestseller and was listed as a Best Book of 2017 by various media.
Red Mist
by Patricia Cornwell
DIGITAL: USAToday.com, WSJ.com, NPR.org, Google Display Ads
PRINT: The New York Times, USA Today, BookPage, The Advocate
OUT-OF-HOME: Times Square and Los Angeles billboards; Boston MBTA subway posters; New York, Boston, and Atlanta airport dioramas
TV: Network television :30 spot
CLIENT: Penguin Random House
Patricia Cornwell is the world's #1 bestselling crime writer with more than 100 million books sold. I've had the privilege to art direct several large-scale marketing campaigns for her Scarpetta novels. For Red Mist, a full 360º campaign was planned to include billboards, TV spots, digital display and print ads.
For maximum exposure, I created a five-story tall Times Square billboard, subway and airport posters showcasing the author and her latest novel. Following the design of the billboard, I produced full-page newsprint ads for the New York Times and USA Today. Collaborating with a production company, a :30 second video was created for network television and digital display ads.
After a substantial ad campaign, Red Mist became an instant #1 New York Times bestseller and spent five weeks on the Hardcover Fiction bestseller list.
The Whole30
by Melissa Hartwig
DIGITAL: Food52, PureWow, and targeted advertising: AdRoll, LiveIntent, Turn, Division-D
PRINT: People, Esquire, Real Simple, Women's Health
EDITORIAL SPONSORSHIPS: Food52 and PureWow
SOCIAL: Facebook, Twitter
CLIENT: Houghton Mifflin Harcourt
To promote the paleo diet phenomenon The Whole30, I was tasked with art directing a 360º campaign targeting diet and nutrition readers in digital, print, and social media. I designed and animated digital display ads for Food52 and PureWow, as well as other targeted ad networks. Full-page print ads were also created and featured in high-circulation magazines.
In addition to traditional paid advertising on Food52 and PureWow, I created digital assets for editorial sponsorships and social media posts. A featured post with a recipe and photos provided great exposure for The Whole30.
The Whole30 was a #1 New York Times bestselling phenomenon spending 114 weeks on the list. The Whole30 Cookbook, Food Freedom Forever, and The Whole30 Fast & Easy also became New York Times bestsellers.